Welcome to this guide introducing what is currently exclusively offered to our premium users at Weava! While we believe that the free Weava plan is amazing already, we promise that you will be able to make the most out of Weava with our great and exclusive premium features.
Premium Feature: Unlimited Highlighter Colors
A helpful way to make your researching process easier and more effective is to color-label your highlighters. To do so, simply click on the "Edit" button on a folder, and you will be able to name the color tags in the respective folder. For example, yellow may indicate important parts or information you find in the text; orange may be used to highlight confusing parts, while green may be used to highlight proof or evidence found. Or any color-labeling that makes sense to you!
Developing your very own color system:
Example of a color system 1 — Doing Academic Research!
When doing academic research, it is common to come across important vocabularies and definitions – especially in academic papers that touch upon topics regarding certain theories, philosophies, or ideologies. By using a color system, you can customize and organize your highlights in a way that aligns with your thought process while reading sources. A standardized color system also makes it much easier to revise and review your work as all your highlights are categorized in accordance.
Pink: Titles and headlines
Orange: Examples of the term
Yellow: Other things
Green: Definitions and explanations of terminology (green explains blue)
Blue: Terminology and vocab
Grey : Questions, or things that confuse me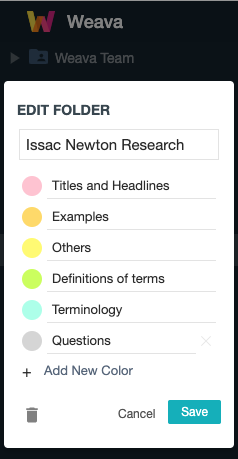 Example of a color system 2: Revising school readings and materials
While going through school readings and materials, using a color system and highlighting the text in accordance makes the process more efficient and organised. You can also easily identify parts you do not understand, or questions you have for the teacher when you finish reading and come back to the document afterwards.
Yellow: Key concepts
Brown : Definitions of terminologies and theories
Pink: Used for unknown and words that are important to understanding the text
Blue: Connections with other chapters
Green: Proof/evidence
Purple : Parts that will be tested in exam
Orange: Questions I have for the teacher
Red : Parts that require more studying and reviewing
Turquoise : Interesting parts
Grey : Others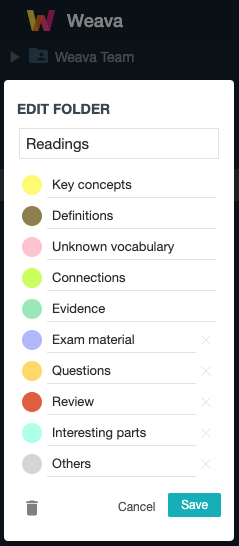 Other Ideas for use cases beyond the default Weava colors:
Black for redacting text
You can use our "black" highlighter when you want to "hide" or "blackout" selected text on a document or webpage. This can be helpful when handling documents regarding sensitive personal information, such as bank statements.
White for "invisible" highlights

You can also "secretly" highlight text with our "white" highlighter! These "invisible" highlights will be visible on the Weava sidebar and dashboard – while everything will look "unhighlighted" on a webpage or document with a white background.
Customizing your own highlighter colors
With the free version of Weava, you are able to select within the five default colors, while with Weava Premium you can customize any color you want (up to 10 unique colors per folder).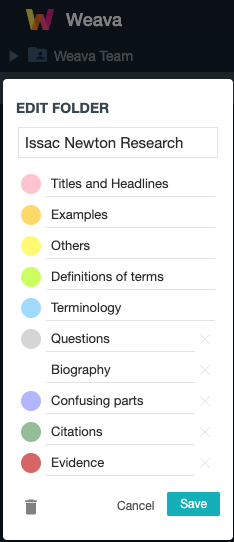 To customize your highlight colors, simply click on the color you want to edit and select from the gradient tool.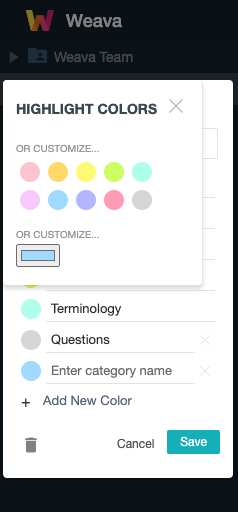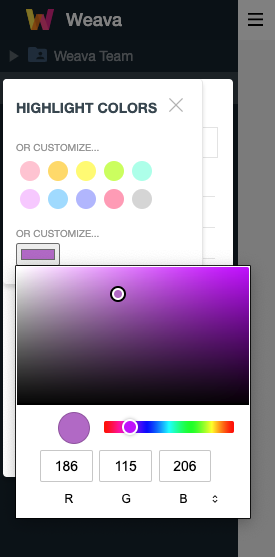 Also note that color labels appear when hovering over the color after you have named it.

You can edit the collection folder to add color labels so that you can associate different highlight colors with different categories or concepts. This can be particularly useful when you are researching for an essay – where you want to better organize and categorize your research for different parts of your paper.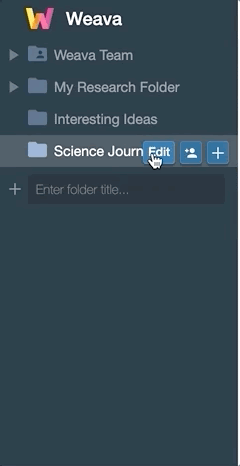 Filter by highlighting color
You can also filter your highlights across websites and documents by highlighter colors! This will be especially useful if you have developed your own color system – where you can easily find revise your color-labelled highlights with a simple click.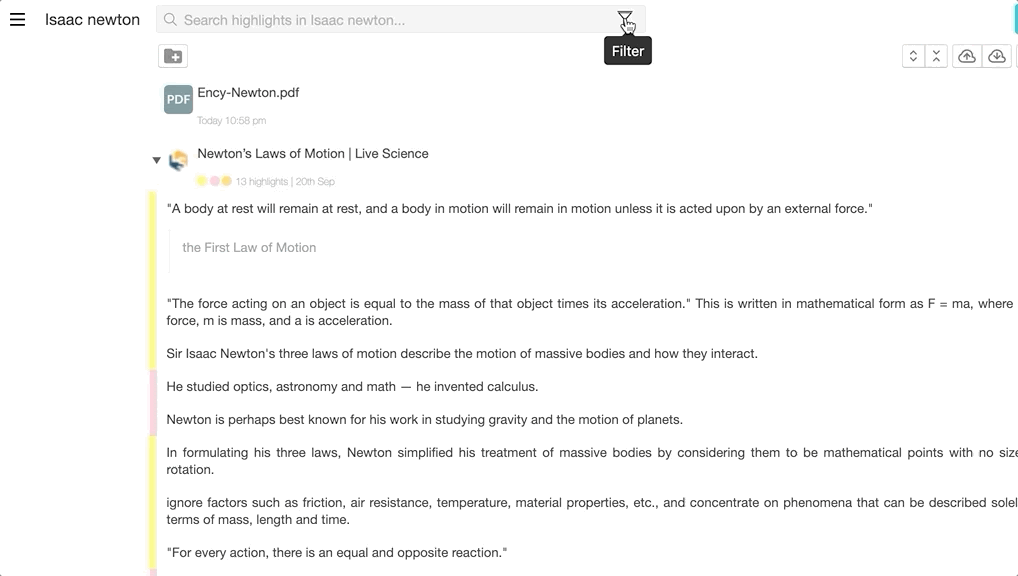 Premium Feature: Unlimited storage
When using our tool online, it is possible that websites and local/online PDFs you have highlighted in the past may change their URL or file paths. To tackle this problem, we have made it easier for you to update the source of the website and file so that you can still see your highlights correctly. Please consider visiting our FAQ article for a detailed step by step guide to solve such challenges.
However, uploading PDFs directly to Weava will result in you never having such issues, and highlights are always visually rendered. With the free Weava plan we offer up to 100 MB storage space – while our premium users enjoy unlimited storage space! Upgrade to premium now so that you can use our tool to work on as many documents as you want!
Unlimited sub-folders
With premium, you can also create unlimited sub-folders to further organize your research and findings within existing folders! You can do so by simply clicking on the "+" button, rename the sub-folder, then click "save". Creating sub-folders may be a great way to further categorize your work within a certain project.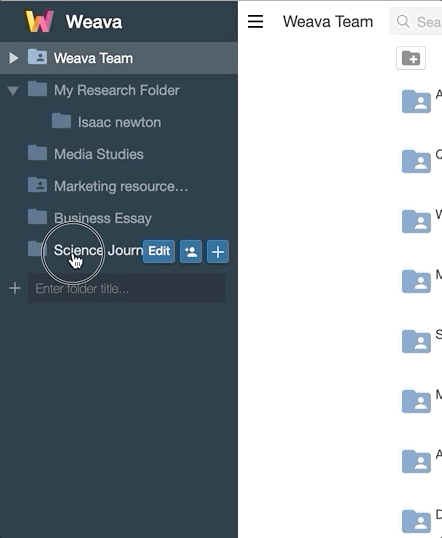 Clipping/Saving Images
Another exciting feature that is offered to premium users is the ability to clip images. You can save images on any websites by dragging them into a small box on the left side of the Chrome screen saying "Drop here!". The images will be automatically saved in your active Weava folder, and you can access the images from your sidebar and dashboard.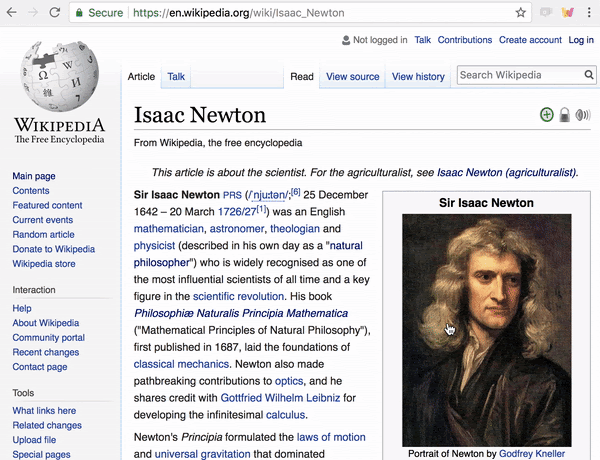 Collaborate in Weava
With Weava you can NOT just create your own highlights, annotations and stay organized in your own workspace — but you can also collaborate with friends and colleagues through shared folders to keep everyone on the same page! Keep in mind that sharing a folder is a one of the many premium features that Weava offers – we promise that Weava gets better with premium!
What are some good use cases for collaboration?
If you are collaborating on a folder, you could use the note section to discuss and ask questions with your friend or teammate. It can be particularly helpful when engaging in group projects where multiple people are taking notes and reading the same material.
You can read more about our collaboration and shared folder feature in our article about "Collaboration with Weava". We are eager to continue to improve the "collaboration" feature and will do so in the future. If you have any specific feature requests regarding this, please let us know by submitting a request on https://weava.upvoty.com. We would love to hear from you.
Future features
We are continuing to develop new features based on our users' needs — and often these features will be available to our paying users first, or exclusively available to paid users.