Create Citation
When you are writing a research paper or creating a research project, you want to make sure that you use another person's work in a proper way. This includes crediting any work by other individuals in your project. Luckily, creating citations with Weava is easy! But, before we get into how you can create citations with Weava, let's talk a little bit more about why citing sources of information is important.
Why is it important to cite sources?
Citing your sources is important, among others, as it:
allows you to give proper credit to the ideas of others and avoid plagiarism;

demonstrates the extent of your research, showing that you have read and engaged relevant literature on your topic;

establishes credibility and authority for your knowledge and ideas – and it places this in context with the overall intellectual conversation about your topic; and

encourages your reader to deepen his/her knowledge on the topic by reading more about it.
How to create citations with Weava
All you have to do is hover over your highlighted article on the Weava dashboard and click "Cite". Weava will automatically try to include as much information as possible for you to make it as quick and efficient as possible. However, depending on the source, you may have to type in some information yourself. Once the citation looks OK, simply click "Copy" and add your citation wherever appropriate (e.g., on a Weava document or Google Doc).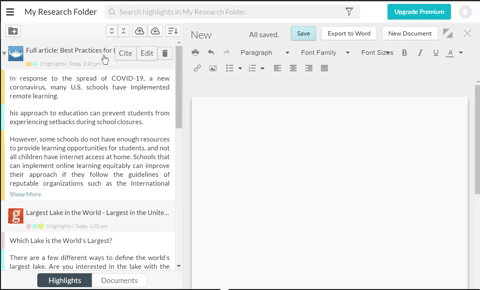 What makes Weava's solution so powerful is that it saves you from manually copy-pasting citations when you first come across an article before knowing whether you will eventually be using it. Instead, you can have the information readily available at your fingertips for when you actually need it. Additionally, Weava also provides you with easy links should you ever want to get back to the article to continue reading.
Overall, our users report that, on average, Weava saves them 3.8+ hours per week, and the citation generator is one of several key factors that saves users' time. Give it a try today and see how it may help you with your own work. And should you want to learn more about Weava's various features, check out our Tips page.
Let us know how we can improve
Note that Weava currently supports citations for American Psychological Association (APA), Modern Language Association of America (MLA), The Chicago Manual of Style, and Harvard Business School (which you can read more about in these external links respectively). We aspire to cover additional referencing styles in the future. If there is any style you particularly need, let us know!
We are always eager to improve and enhance your user experience. If you have any other feature requests or suggestions related to Weava's citation feature, let us know on our public feature request portal where other users can also vote on suggestions. https://weava.upvoty.com/
We hope you find this helpful, and we wish you a great day.
Happy highlighting!