Regardless of countries and cultures, it is important for any student to learn how to organize their thoughts and research in the current digital era. Teaching students to be productive and organized online is easier said than done, but Weava is here to help. 
Widely embraced as an invaluable study tool, Weava is a browser extension and a mobile application that is already being used by more than 700,000 individuals around the world. More than 60% of the users are students from 1,000+ secondary and higher educational institutions – including Brown, Yale, Princeton, and Harvard, among many others.

What Makes Weava the Perfect Research Partner for Students?
Weava encourages students to first think about how they are going to organize their online research, especially as they accumulate more highlights. Weava provides diverse customizable options for students to categorize their highlights and notes, such as with different folders and subfolders, highlight colors, sorting options, etc. With Weava, students can:
Highlight and annotate online articles, online PDFs, and locally stored PDFs;
Organize highlights and notes in folders and categorize contents by highlight colors;
Manage and revisit highlights quickly;
Export highlights and annotations to other formats, such as docx, xlsx, csv and txt files;
Generate and export citations;
Clip images; and
Collaborate with others in real time!
Weava Also Supports Teachers
While Weava is a tool that any educator can confidently recommend to students to improve their research and writing, Weava can also be a valuable tool for teachers. For example, with Weava, teachers can:
Highlight and save articles and reports for future use in teaching and class discussions;
Pre-highlight websites, news articles, or PDF documents for use in class reading lists;
Include annotations and questions in PDF or online reading materials for students' consideration;
Clip photos and charts for future use; and
Of course, Weava is a great tool to help teachers with their own research and personal knowledge management!
Premium Features
The free plan of Weava already provides a host of functions that are useful for teaching and learning, but Weava Premium offers additional features and benefits, such as:
Unlimited highlight colors

Unlimited sub-folders

Unlimited storage

Collaboration with others

Image Clipping

Prioritized customer support
Testimonials from Students and Educators
"It's a one-stop-shop for being able to take a research topic, then conceptualize your thinking structure, take resources and put them into the structure, and synthesize those resources, all in one place."

"The old way of doing traditional research papers was so cumbersome that we needed something to reinvent the process."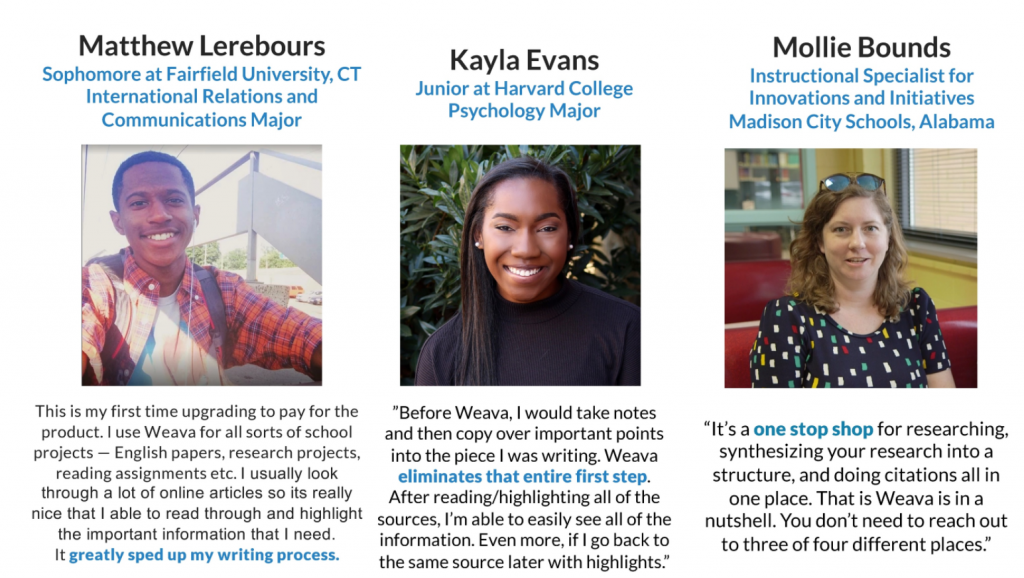 For more testimonials and reviews from students and educators on Weava, read here!
Additional References
For more resources for students and educators, read below:
For more resources and tips on how to use Weava, read below:
You can also watch video tutorials at Weava's YouTube Channel:
Feel free to contact Weava at info@weavatools.com if you need any help! Happy highlighting!